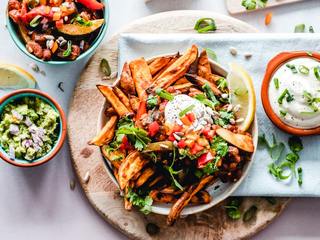 Dress Up Your BBQ With These Sides!
Condiments
Summertime means barbecue season. When the weather's warm, it's the perfect time to light the grill and cook up some delicious and hearty meals. But you can't have a good barbecue without the dressings. Barbecue condiments are essential for a good cookout. Backyard barbecues are no longer accompanied only by mustard and ketchup. Instead, a much wider variety of condiments have made their presence known to our taste buds. Here are a few unique varieties to make at home.
What you'll need: 2 large onions, 3 garlic cloves, 2 tbsp butter, 1 tsp sugar, ½ tsp paprika powder, 7 oz cream cheese, 1 cup sour cream, salt, pepper, and parsley for garnish.
How to make it: Slice onions and mince garlic. Melt butter in a frying pan set over medium-high heat. Add garlic and onions, and sauté for 5 min., or until brown and soft. Season with salt and pepper. Reduce heat, add sugar and cook for 5 min. more, or until caramelized, stirring constantly. Allow to cool and combine with cream cheese, sour cream, and paprika powder. Season to taste with salt and pepper and garnish with chopped parsley. A great topping for your burgers.
What you'll need: 2 cooked beetroot, 2 cloves of garlic,4 heaped tablespoons Greek yoghurt, olive oil, salt &pepper, juice of half a lime, chilli flakes
How to make it: Grate beetroot and garlic into a bowl and add the rest of the ingredients except olive oil and mix well. Drizzle olive oil on top. Goes well with grilled kebabs.
What you'll need:½ cucumbers, 250g Greek yoghurt, Bunch of fresh mint, finely sliced, 1-2 garlic cloves, crushed, Juice of ½ lemon
How to make it: Halve the cucumber lengthways and scoop out the seeds (discard). Coarsely grate the flesh into a sieve set over a bowl, scatter with sea salt and leave to drain for 5-10 minutes. Put the yoghurt in a mixing bowl with the mint, garlic and lemon juice. Squeeze out as much water as you can from the cucumber, then stir through the yoghurt mix. Season to taste, then serve. Another fantastic topping for your burgers.
What you'll need:2 cup of fresh loose-packed parsley, 1/4 cup extra virgin olive oil, 1/4 cup water, 1 teaspoon dried oregano, 3 tablespoons fresh lemon juice, 2 small cloves garlic, 1 teaspoon salt, 1/2 teaspoon pepper
How to make it: Mix the above ingredients in a blender. That's all you got to do and it is ready to be served. Goes well with Lamb chops.


Salads
It's time to fire up the grill! You've got your go-to mains: Think grilled chicken, perfectly cooked steak, or marinated shrimp — your pick. But no BBQ is complete without a salad or two, look no further for the ultimate to jazz up your family's next barbecue moment. Even your kids will devour these tasty, comforting salads.
Thai Slaw with Peanut Dressing
This is a terrific fresh, crunchy Asian salad that is called an Asian Slaw because it has shredded cabbage and carrot-like traditional coleslaw. The fresh herbs and Asian Dressing infused with Thai flavours make this oriental. It's a terrific all-rounder side salad and will be a definite winner at your BBQ.

What you'll need for the base: Shredded cabbage, Matchstick carrots, Bell pepper, Green onions, Cilantro
What you'll need for the Thai peanut dressing: 1/4 cup peanut butter, 1 tblsp Lime juice, 1 tsp vinegar, 2 tblsp Soy sauce, 1 tblsp Honey, 1tblsp Brown sugar, 1 tblsp Sesame oil, 1 tblsp Sriracha/ hot sauce,1/4 tsp ground ginger, 2 clove garlic Garlic
How to make it: Prep the veggies, then add to a large salad bowl and toss to combine. In a small mixing bowl, whisk together the slaw dressing ingredients. Pour over veggies. Toss slaw to distribute the dressing, then garnish with sesame seeds.
The Ultimate potato Salad
Potato Salad is always a must-have side dish in a BBQ. This is an Ultimate Potato Salad Recipe recipe you'll want to keep your hands on!
What you'll need for the base:1 1/2 kg petite (or baby) red or white potatoes, cut into 4ths, 2 1/2 tsp salt, divided, 2-3 Tbsp apple cider vinegar, 1 pack of sausages,,3-4 hard-boiled eggs, peeled and coarsely chopped, 1/2 small red onion, peeled and finely diced, 1/4 cup finely diced celery (2-3 stalks), 1/4 cup finely chopped sweet pickles (you can find it in any supermarket if not you can omit this) and a handful of chopped parsley.
What you'll need for the dressing: 3/4 cup mayonnaise, 1 Tbsp whole-grain dijon mustard, 2 tsp granulated sugar, pinch ground celery seed, 1/4 tsp black pepper.
How to make it: Add sliced potatoes to a large saucepan. Cover with cold water, about an inch above the tops of the potatoes. Bring to a boil over MED-HIGH heat. Covering the pan helps this happen faster, but pay attention that it doesn't boil over!! Once boiling, add 1 1/2 tsp salt and stir. Boil, for 10-15 minutes, until potatoes are fork-tender. Watch out for the foam on top of the water, it can boil over if you're not careful. Adjust the heat so that the potatoes are still boiling, but not so hot that they're roaring. Drain potatoes in a colander, then return potatoes to the same hot pot you boiled them in. Add vinegar and stir to combine. Let sit a minute or two, then return to the colander to cool slightly. While potatoes are cooling, add dressing ingredients plus the remaining 1 tsp salt to a large mixing bowl. Whisk together and set aside. Chop eggs, sausages, red onion, celery and pickles. Add cooked potatoes to the dressing in the mixing bowl and top with chopped eggs, sausages, onion, celery and pickles. Gently stir it all together, until well combined. Cover tightly and refrigerate until cold, at least 3-4 hours.
Drinks
Easy peasy summer beverages that will accompany well with your summer BBQ's. Sip on these gorgeous summer drinks to Enjoy on a Hot Summer Day.
Mango Mojito



What you'll need: Mangoes( pick ripe mangoes or use mango lassi), sprite, ice cubes, fresh mint leaves and sliced lemon.
How to make it: Add roughly diced mangoes in a glass or a bowl crush it nicely until puréed or you can directly puree it in a blender or food processor. Now, add fresh mint leaves and sliced lemon then crush it nicely so that all the flavours are infused in mango purée. Distribute mango mixture to serving glasses then add ice cubes and sprite. Top the mango mojito with mint leaves and enjoy!
Watermelonade


What you'll need: 1/2 cup sugar,4 cups cubed watermelon, 3 1/2 cups water,1/2 cup freshly squeezed lemon juice
How to make it: Bring sugar and 1/2 cup water to a boil in a small saucepan, stirring sugar to dissolve. Set aside. Put the cubed watermelon in a blender and puree until smooth, about 20 seconds. Strain through a fine-mesh sieve. You should have about 2 cups of strained watermelon juice. Mix the sugar syrup with 3 cups of cold water and lemon juice. Stir well. Fill glasses with ice, add about 3 tablespoons of watermelon juice and then top off with lemonade. Stir gently before serving.
The Soul Journal Team